Women don't lose their hair, right?
At the age of 44 I started noticing my hair was falling out more rapidly than normal. I had just moved from Boston to Chicago to start a new job, so I chalked it up to stress. I believed my hair loss would subside once I adjusted to my new life. But the hair loss didn't lessen and by 50, I was so thin on top, I was beside myself. Women don't lose their hair.
Let me digress for a moment. My father owns a hair restoration studio and is a hair wearer. He has been in the business for 29 years.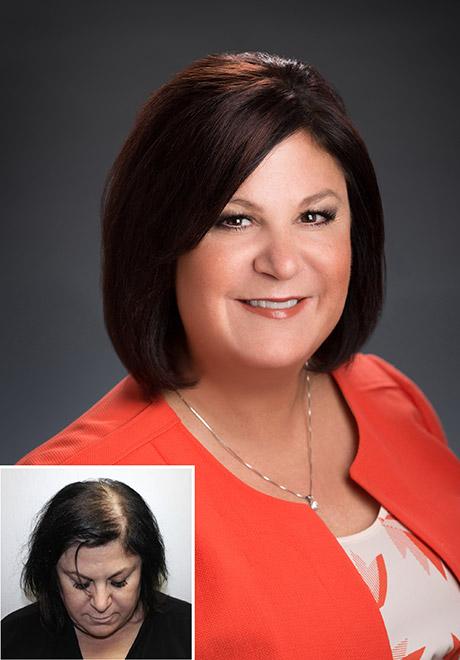 At 50 I went to my stylist and asked for advice. What I got was "Let's part your hair a different way" and "let's give you more layers", and "lets color your hair". I tried this for a year, but the hair loss continued. So I went to a dermatologist and got a biopsy. The biopsy came back as "alopecia androgenetic" or in laymen terms "Male Pattern Baldness". My reaction was that of surprise and disappointment; How can that be, I am a female, how can I have male pattern baldness?!. I asked the doctor if there was anything I could do, his answer was NO. I asked what about minoxidil? He said "you can try it, but your hair will not grow back". I left his office dejected and deflated and bought some Rogaine. Did I mention my dad is in the hair replacement business?
I used Rogaine for 2 years and hair loss lessened but there was no new hair growth; the hair I lost never grew back. After 8 years of loss with no solutions in sight, I finally went to my dad, have I mentioned he owns a hair replacement studio, for help. This was one of the best decisions I have ever made. He helped me find a hair system that worked for me and gave me my hair back. I was thrilled. Something else happened that surprised me, I got my confidence and self-esteem back. I was not aware of how much my hair loss affected me. I have been wearing for 6 years now. My lifestyle has not changed, I swim, work out, use headbands and clips, change hair styles, and use blow driers and flat irons. What has changed is my willingness to put myself out there and meet new people. Now I am part of my dads' hair replacement business and want to help other women who are experiencing hair loss.
Images International focuses on all stages of hair loss whether it is hormonal, medical, seasonal, or hereditary. I am confident Images has a solution for you. No women should have to suffer alone. Contact us today for a free scalp analysis by calling (248) 540-0900.