My Daughter's Hair Won't Grow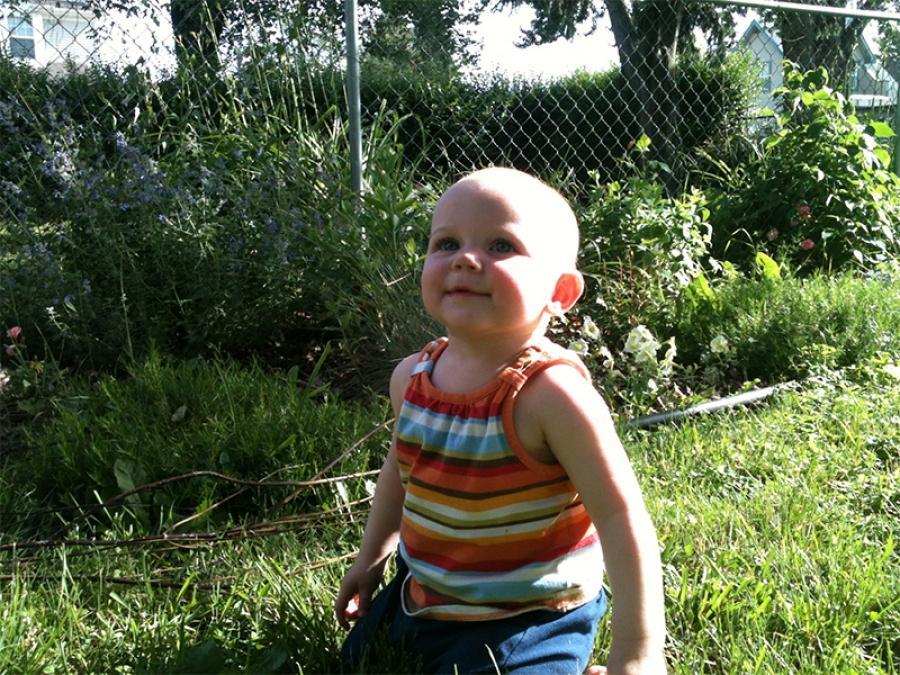 My daughter was a bald baby. She was cute, I must admit. It's funny how without hair you can simply appreciate a baby's facial features and she was striking, well, I like to think so.
I asked my pediatrician about her lack of hair growth. As time passed I became a little concerned. When would her hair fill in? Would she always have thin fine hair? She has a mom in the right business, but I see the toll thin hair has on young women every day and I wondered if she'd be one of them.
My pediatrician said it was probably nothing to worry about. Hair grows at different paces for every child. She mentioned some cultures even shave a baby girl's hair because they believe it will make her hair grow in thicker. However, while I pursue my knowledge of trichology I have learned that is just a myth. Her doctor did order some blood work, we checked her thyroid and vitamin levels. Trying to take blood from an 18 month old was no picnic. I can still see them moving the needle underneath her skin trying to hit her tiny blood vessel that was just as thin as a strand of her hair. Her tests were normal and we moved on.
I have had women at grocery stores stop me to tell me their daughter's hair was just the same and now it's full and healthy. I had hope and I reminded myself how lucky we are that this was the extent of our worries with our little girl.
Into her twos she often got mistaken for a boy, her hair just does not grow! When we finally achieved some length it grew in the back which gave her a mullet. I have nothing against a mullet, I think some people can really pull it off but I chose to cut her hair into a pixie which really suited her. I hoped the shorter cut would give her bangs time to become even with the sides of her hair.
Then came the princess phase. She started to appreciate long hair and wanted to resemble Rapunzel. She just wouldn't have it if I suggested a hair cut even though it was growing out very fine and stringy. Now my goal was to just get her bangs to a point where she could tuck them behind her ears, then we would have made it out of the mullet stage. She has a signature style, a ponytail with a barrette holding back her bangs. We have barrettes all over our house. There are barrettes on the end table, in the cup holders in my car, in the side pocket of my purse, they are at Grandma's house, at school and on the shelves of our bathroom shower. Keeping the growing bangs out of her face just until she could tuck them was what we were going for. And then it happened.
One week before the first day of preschool my father had had enough with the bangs in her face and he cut them. He cut them like he trims his hedges taking whacks at them until they are stripped and bare. He cut them across her forehead but they were uneven so he cut them some more but that made them uneven and so he cut and cut and cut until they were at the very top of her forehead. I walked in the door from work and gasped in outrage, "what had he DONE?! All of our hard work! All of the barrettes! We were going to have to start all over! It will take years!"
Quickly realizing my daughter was staring at me for approval, I noticed her look was unsure because of my reaction. I told her how beautiful she looked and how exciting it was to have a haircut and then I didn't speak to my father for 4 days.
I even felt the need to explain her hair to her teachers on the first day of school because there was no way that I wanted to be thought the responsible party for her tri-level bangs. As I dropped her off I happened to notice little girls with thick hair and little girls with fine hair. I resolved to just be patient and let it grow and to stop worrying about it.
She is 4 and a half and her hair has finally achieved a length just below her shoulders. It is so very fine it easily tangles. We have to pull it back or else it just looks like a straggly mess. We still have to clip her hair back with a barrette because much of it doesn't fit into her pony tail. She brushes her two year old cousin's thick long hair and I can see her envy. She says she wishes she could have hair like that.
I came across a condition recently that may explain her slow hair growth. I am not sure if she has it or not and because I have ruled out chronic illness I don't plan on having her diagnosed as there is no cure or treatment anyway.
This condition is called Short Anagen Syndrome or SAS for short. The anagen phase, or growth phase, is shorter than normal. It is benign and usually observed in early childhood and it resolves during adolescence but often sooner. It is thought to be an under reported condition and it not related to excessive thinning nor is it related to any other illnesses. Basically, the hair stops growing before it reaches a long length.
In searching for information about my daughter's thin hair I have come across a lot of discussions and questions in online forums asking the same questions I have had. Perhaps this can be an explanation for some of those parents wondering about their child's thin, slow growing hair. Always see a doctor for questions about your child's health and wellbeing. Images International offers all natural hair care products designed to nurture and protect the hair and scalp. Please call us to learn more at a free consultation, (248) 540-0900.